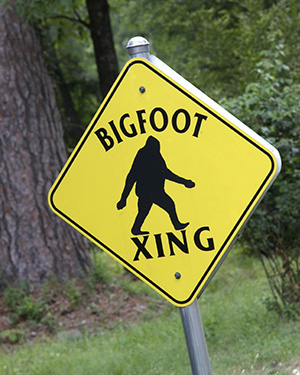 Note: this three-part series has been posted as a complete white paper here.
The other postings are available here:
Myth 1: Introducing an Integrator Costs More
Myth 2: An Integrator is merely a substitute for Governance

Introduction

In Gartner's "Hype Cycle for IT Infrastructure and Outsourcing Services, 2013",, Multi-sourcing Service Integration (MSI) or Service Integration and Management (SIAM) is described as sliding into the Trough of Disillusionment. By Gartner's definitions, that means "because the technology does not live up to its overinflated expectations, it rapidly becomes unfashionable. Media interest wanes, except for a few cautionary tales." This is often a characteristic of maturing capabilities with relatively low market penetration. To be clear, Gartner's Hype Cycle curve describes an evolution of service adoption – from initial innovation, to expectations, through disillusionment to enlightenment and productivity.   And in fact, they predict that MSI will have passed through this current phase and see mainstream adoption in only 2 to 5 years.
Third myth – Service Integration is just another name for Service Management.
Service Integration is neither Systems Integration nor Service Management. It's more complicated than that. Let's look at Gartner's definition of a Service Integrator:
"A multisourcing service integrator (MSI) is a role undertaken by the client, or a third party contracted by the client organization, to act as its agent to coordinate and integrate service delivery in an environment that uses multiple internal and external service providers to deliver IT and business process services."
Key words here are "coordinate and integrate". An orchestrated and fully integrated services platform will enable plug and play of multiple service providers across and within towers. In the UK, where the Government is driving for multiple, relatively lower value contracts of no more than 2 years duration, this is rapidly becoming the reality – constant churn. Such an environment drives the need for greater flexibility than is possible in a more traditional prime/sub environment.
It needs to be much more than just good tools and good contracts. Good tools can bring efficient ticket handling and greater visibility. Good contracts will make contract management easier and can deliver a level of uniformity, but they'll never be coterminous, and will invariably differ one from another in key areas.
What good tools and good contracts cannot of themselves bring is the requisite level of stability and predictability to deal with changes in provider, technology and organisational demands while delivering consistently high levels of service to users.
What it takes is an operational platform of practice built around shared tasks, shared accountabilities, and, with good tools in place, shared information. It's about bringing all the service elements together (so it clearly goes beyond just providing a Service Desk, for instance).
Which begs the question: can we more tightly define what an Integrator does? And the top level answer is Cross Functional + Co-ordination + Collaboration + Control.
Cross-functional: as outlined in the first article in this series, the Integrator professionalises the cross-functional elements that go to make for the smooth delivery of cross-provider and cross-tower services.
Co-ordination: ensuring that service elements from multiple sources, be they internal, unique, legacy, delivered by several similar providers or as a service from the Cloud, come together to provide an acceptable business service to users.
Collaboration: creating a platform of practice underpinned by agreement between the parties to ensure they all work together for the common good, because they see their own advantage in so doing.
Control: operating this platform on behalf of the client consistently and predictably.
Once again, collaboration stands out as a key element in this way of working. How can such a platform be achieved and sustained given complexities of service sources and the need to be able to cope with change?
There are at least two elements key to creating successful shared accountability: Operating Level Agreements and Shared Service Levels. Both are described in more detail in another of our papers, but here are the points relevant to the present argument.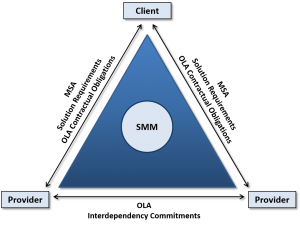 Operating Level Agreements (OLAs)
OLAs create a bond between service providers that is enforced by the contracts between each service provider and the client. The OLAs are a component of the services each service provider must deliver to the client and are intended to clarify the roles and responsibilities of those providers.
There are three parts to the OLA structure, and the Integrator drives this process development, including development of and changes to the OLA elements. The first consists of the obligations between service providers and client. The other two provide the detail of the OLAs between the service providers.
Part A Contractual Framework

Procedural rules related to management and cooperation
Change and approval processes for OLAs
Inter/intra provider dispute management and escalation

Part B Between Providers

Acknowledgements of cooperation and reliance between providers (e.g. tool sharing)
Mutual obligations to the client
Procedural rules established between service providers

Part C Between Components

Elements align with components of the Service Management Manual (SMM) and are solution-specific
Process descriptions / parameters / targets established between service providers
Role descriptions and operations management protocols established between service providers
Shared Service Levels
In an environment where successful delivery of service to the end user relies on elements from multiple providers, the service level methodology must recognise that success is a joint responsibility.
It is important to note that not all service levels in this approach are shared among service providers. There are three categories of service levels, and only the fully shared category includes a single measurement that affects two or more providers.
Fully shared  

Identical metric descriptions and targets for each provider
Single measurement affects two or more providers
Measurement approach and targets must remain identical through the term

Related

Measurements are based on similar pools of events but occur separately for each provider
Targets may fluctuate over the term

Unique

Measure services specific to a provider
Summary
A Service Integrator ensures the delivery of consistent and predictable service through developing and sustaining with the service providers an operational platform of practice built around shared tasks, shared accountability, and shared information.  With the right contracting platform and relationships in place, the Integrator can greatly improve overall success in meeting the standardisation needs of the enterprise while addressing the bespoke requirements of the individual end customers. This is much more than simply service management.
– Nick James – Director, UK and Europe
30-Oct-2014 – [bio]