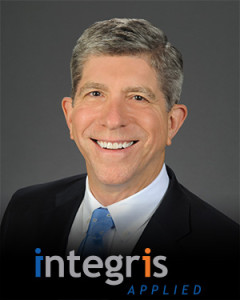 Veteran sourcing attorney's experience and credibility create unique role as an advisor on sourcing agreements and service relationships.
The Woodlands, Texas (PRWEB) September 8, 2015
Integris Applied announced this week that veteran sourcing attorney Geofrey Master has joined the firm as a partner. Master's background and credentials augment Integris Applied's market leading capabilities to build, restructure, and support sourcing agreements and relationships, with a focus on highly flexible, multi-supplier environments. Having spent years as a lawyer on all sides of sourcing relationships, Master has earned a reputation as a fair and credible counselor, an experienced practitioner, and a trusted advisor. He brings that experience forward as a senior strategist and consultant in building and maintaining sourcing and contracting relationships.
"I have known and respected the Integris Applied team for a very long time and am excited about what they are doing," Master said. "I love their emphasis on building and supporting healthy sourcing relationships that truly facilitate flexibility and change – themes core to the industry from the beginning, but elusive. Over the years, I have seen too many sourcing relationships fail to live up to their potential, despite having current best practice pieces in place. Integris Applied is evolving the sourcing model in ways and with a level of commitment that I haven't seen before. This requires experience, commitment and creativity. Integris Applied brings this to its engagements, and leads the industry in doing so. I'm thrilled to be a part of it."
Master has long been recognized as a leading legal expert in ITO and BPO sourcing – most recently as a partner with Mayer Brown's highly regarded Business & Technology Sourcing practice. He started his legal career as an attorney at a major Wall Street law firm, and went on to be a partner in a leading Austin, Texas law firm focused in business and tax, and served an adjunct professor in business planning at The University Texas School of Law. Prior to joining Mayer Brown, Master worked for more than ten years in EDS (now HP) in various senior legal capacities, including supporting global business transaction strategy and compliance functions. He served for five years as EDS' international general counsel, with responsibility for all transactional legal support outside of the US. Much of this time was spent overseas in the UK, Europe, and Asia.
Master is a frequently-requested speaker and panelist at international and industry conferences. He has written and been referenced in numerous publications and has been honored over many years by legal rating publications, including Chambers Global, PLC Which Lawyer, and Martindale-Hubbell.
Les Druitt, founding principal of Integris Applied, said that he "could not be more excited to have someone of Geof's caliber and credibility joining the firm. He brings strengths and dimensions that will strongly support our focus and commitment to clients and evolution of the sourcing model." He further added that "Integris Applied has established the market standard to develop multisourcing service integration environments that are necessary for CIOs and organizations to take advantage of new and evolving technologies. Geof brings experience and creativity that will help us make our clients and their service provider partners more successful. He will make a fantastic consultant."
Master added: "Integris Applied's strong experience in the public sector also excites me. Solid and efficient functioning of government has long been an interest of mine and I am happy to have the chance to support that. I am also very excited about the huge potential in taking sourcing strategies and concepts incubated in the public sector to the private sector. That may not be a traditional conception of business cross pollination, but that is representative of things in store for Integris Applied."
For a full biography of Mr. Master, please read his profile on the Integris Applied web site.
About Integris Applied
Integris Applied is redefining sourcing for our clients. We rebuild relationships, unlock value, and restore trust. With deep roots in the sourcing industry, we have walked in our clients' shoes – as buyers, sellers, and advisors. Integris Applied helps redefine an organization's IT ecosystem to integrate modern delivery platforms (such as XaaS) with legacy systems and retained organizations. We focus on IT strategy, sourcing deal design, procurement support, governance, and platform design. We assist our clients with the structuring of governance and relationship management models, executive mentoring and coaching, and mediation on behalf of the parties' shared interests in the long-term health of the relationship. We have a strong track record in commercial and state government environments with a specialty focus on multisourcing and multiparty integration and collaborative negotiation. We consult. With perspective.