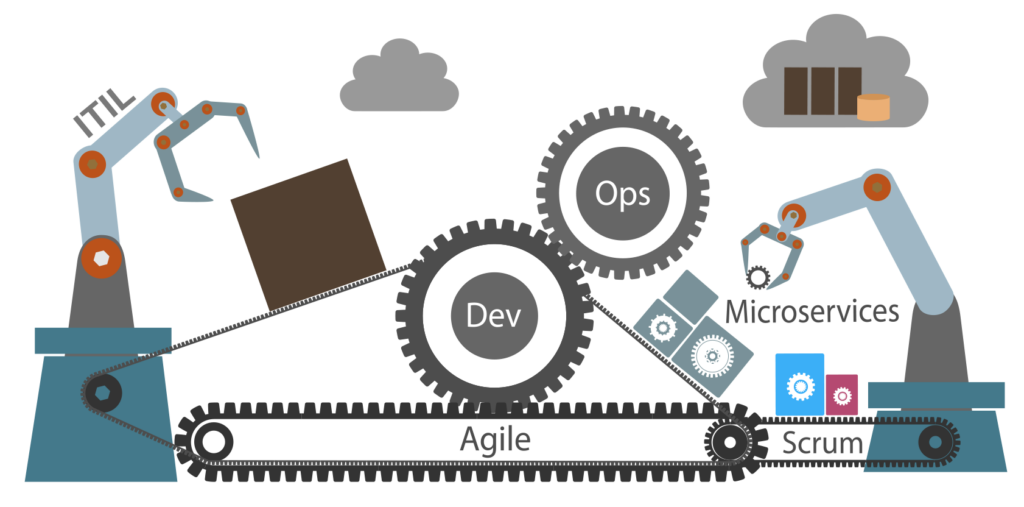 Agile, low-code, no-code, generative AI, DevOps, SaaS, digital business…  In a world where these words are common, what is the role of a central IT department and ITIL-based service management frameworks?
A 2020 Integris Applied white paper considered when and where ITIL 4 could still be relevant. Our conclusion was that larger, federated, heterogeneous environments such as mature companies and governments need robust processes, and ITIL 4 provides a useful framework.
As a practitioner of ITIL for over 20 years for international corporations and government entities, I have seen the many benefits of adopting the methodology for IT service management.  In that time hosting and application development technologies and practices have progressed, and, regardless of company/government type, we must integrate old systems and processes particularly with new agile and cloud delivery models.
More recently as a solution architect, I was charged with designing delivery models for three large federal IT proposals with requirements focused on Agile product development and some mix of cloud hosting.  Using that approach, an organization can take advantage of cloud's essentially perfect infrastructure (in the case of IaaS) or no infrastructure at all to manage (SaaS) or somewhere in between (PaaS).
These choices, singly or in combination, largely eliminate the need for IT hosting processes focused on keeping the lights on, which is where the ITIL shines, at least historically.
Agile methodologies emphasize "people over process" and are founded on assumptions of frequent, iterative product changes.  Traditional ITIL change control process implementations, typically based on rules, documentation, CABs, and approvals, can impede agile delivery and in the end provide less business value particularly if the development pipeline automates testing and code deployment for error proofing.
Even with traditionally managed or private cloud hosting infrastructure, such application changes present reduced risk of negative impact (outages, errors, and service disruptions), and likewise diminished value to strict control of changes.  For the infrastructure operations owner then the question is how to balance the competing goals of enabling rapid updates while protecting the stability of the environment?
Reasonable approaches to manage the interface of agile and ITIL practices could include:
Define each type of product sprint deployment as an ITIL standard change, defined as one that is fully documented for procedure and risk then pre-approved. The standard change can be automated as a step in the DevOps pipeline for record keeping in the event the unexpected occurs and other services are impacted requiring support teams to respond.
Require an ITIL normal change for some agreed level of less frequent application release like a new deployment or major update, which would tend to have more impact on other services. This would be coordinated via a release management process if it requires changes to infrastructure like additional server resources or network configuration updates.
At a more general level, engage in regular cross-functional collaboration sessions (aka, governance) to maintain alignment between product development and infrastructure operations to ensure the people, processes, and technology that comprise the value chain are optimized for business outcomes.
Another shift in the value chain, enabled both by methodology and technology, is the increased rate of code delivery.  Agile (and particularly SaaS low code/no code) allows higher velocity of new IT capabilities being released by the development resources than ever before. Not only are dedicated programming resources more productive, but new models include the concept of the citizen developer. These are non-IT, line of business staff who take advantage of the shorter learning curve of low-code/no-code platforms to create business solutions with less IT involvement.  Together these combine to greatly expand the rate at which new IT services can be launched into the IT estate.
In this new model with higher rates of code deployment to cloud infrastructure, the IT governance challenge likewise shifts to managing the opportunities for exploiting IT for business value or "demand management" in ITIL language.  As a practice, demand management can be conceived as the funnel through which improvements, innovation, and other business requirements (demands for resources) are captured, assessed, approved, and then packaged into projects.  In this increasingly common scenario, the relevance (and value) of ITIL moves up the IT delivery model hierarchy from infrastructure service management to business planning.  At this layer, however, ITIL is not without competition, because agile methodologies like SAFe also have practices such as lean portfolio management for managing demand for business capabilities.
Regardless of chosen methodology, companies and government bodies benefit from a systematic approach to deciding where to apply resources.
While the agile/cloud model is seeing increased adoption, we are also aware that there remain many organizations, in both government and private sector, that choose to own and manage infrastructure for diverse, valid reasons.  For those organizations, I believe ITIL will continue to be the preferred ITSM framework for quite some time.
– Matt Reprogle, June 2023 – [bio]